Sheet pile foundation (combining the sheet pile for temporary retaining and the spread foundation) was developed as a foundation method for bridges and viaducts, and offers cost-effectiveness as well as improved workability and seismic performance. If the ground conditions (N value: 30 or less) require piles because the spread foundation is not appropriate, as shown in Fig.1, this type of foundation can still be applied thanks to the sheet pile ground constraint effect. Additionally, because the sheet pile is used as a form for footing, workability is improved and the construction period can be reduced. A reduction in waste mud and sand from the construction work can also be expected due to the reduced width of excavation.
Model experiments showed that the vertical bearing capacity of the sheet pile foundation increases compared with the spread foundation (Fig.2) and thus the sheet pile foundation is more resistant to seismic forces (Fig.3). This verified that the sheet pile foundation can also be applied to weak ground where the pile foundation has conventionally been used.
In addition, a sheet pile foundation design method was proposed, and trial designs and costs were compared. As an example, for loose sand ground (N value: 20, depth: 20m), costs can be reduced by about 20% using the sheet pile foundation (sheet pile length: 8m, width: 8m) compared to the conventional pile foundation (pile diameter: 1.1m, 5 piles).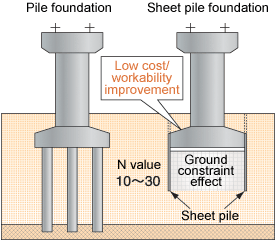 Fig.1 Outline of the sheet pile foundation
| | |
| --- | --- |
| | |
| Fig.2 Result of vertical loading tests on the foundation model | Fig.3 Result of horizontal loading tests on the foundation model |