To prevent accidents involving elderly or physically handicapped people on level crossings, the RTRI has promoted the development of a device to detect obstructions on level crossings using stereo cameras. However, if the sun is on the extension of a camera's optical axis, the device sometimes erroneously identifies an obstacle on the level crossing due to the smear phenomenon (Fig. 1). This effect is known as over-detection.
To solve this problem, the RTRI developed a multi-stereo-camera system (Fig. 2) whereby additional stereo cameras are installed on the opposite side to the existing cameras, and attempt to detect obstacles from multiple points of view. In a nine-month performance test in the field, over-estimation errors have been completely eliminated.
The system is now under test in the Kansai district to check its function continuously on revenue service lines and confirm its effectiveness under different installation conditions.
Fig. 1 Reduction of the effect of direct sunlight with multiple cameras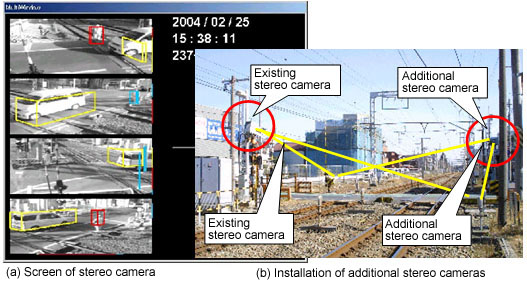 Fig. 2 Multi-stereo-camera system
---

HOME > Major Results of Research and Development in Fiscal 2004 > I Safety/Reliability




RTRI HOME
Copyright(c) 2005 Railway Technical Research Institute,Tokyo Japan, All rights reserved.