2. Technological development on the Yamanashi test line
(1) History of running tests
In fiscal 2004, 164 days of running tests were performed for a total running distance of approximately 85,700km, with about 21,700 people experiencing test riding. After the start of running tests in fiscal 1997, the cumulative running distance reached 434,000km, including achievement of the targeted distance of over 200,000km with multiple trucks, and the number of test riders reached about 89,200.
Figure 2 summarizes the yearly running distance and the number of test days since fiscal 1997. The running distance per test day, which was 107km in fiscal 1997, exceeded 400km in fiscal 2000 and reached 500km or more in fiscal 2003 and 2004.
In fiscal 2004, the RTRI implemented special tests (such as tests with a flat tire, superconducting magnet (SCM) failure and operation of two train-sets coupled in tandem to simulate relief operation of a failed train-set) (Fig. 3) to check the system's ability to cope with abnormal situations and the soundness of landing wheels and other auxiliary devices.
The RTRI also implemented tests to assess the rolling stock's kinetic characteristics using a guideway on which irregularities were set, and by subjecting the rolling stock to simulated lightning strikes and other abnormal situations.
The RTRI ran vehicles for 1,000km or more on a daily basis for a period of 10 days to demonstrate the reliability of the system, and checked the behavior of two trains passing each other at a relative speed of as high as 1,026km/h (as per the running pattern in Fig. 4).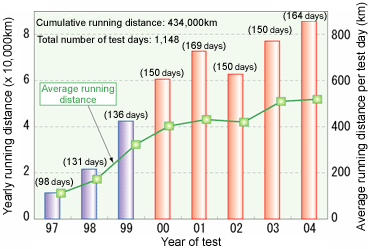 Fig. 2 Yearly running distance and number of test days
| | |
| --- | --- |
| Fig. 3 Test of failed train-set relief operation | Fig. 4 Run curve in the high-speed in the test of two trains passing each other |