NEWS
ISO14001 Registration Center
---
Accredited by JAB
The ISO14001 Registration Center, Railway Technical Research Institute, have been accredited by The Japan Accreditation Board for Conformity Assessment (JAB) for registration of organizations' environmental management system on September 1, 2000.
Accreditation No.
RE026
Accredit Date
September 1, 2000
Expiry Date
August 31, 2004
Scope of Accreditation
14 Rubber and plastic products
22 Other transport equipment
29 Wholesale and retail trade, Repair of motor vehicles motorcycles and personal and household goods
30 Hotels and restaurants 31 Transport storage and communication 34 Engineering services
ISO9001 Registration
The Center began preparation for offering registration service for Quality Management System (ISO9001). The services will be opened on April 1, 2001. The scope for ISO9001 will be planed for the following three fields.

Machinery and equipment
Other transport equipment
Transport, storage and communication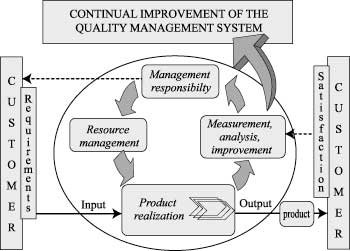 Model of the process approach of ISO9001
Records of past reviews and registration
The reviews and registration for environmental management system as of the end of November, 2000 are as shown below.
Entrepreneur registered
Address
Date of registration
Registration No.
Shibata Industry Co., Ltd.
Headquarters and factories
1058 Nakao, Uozumi-cho,
Akashi-shi, Hyogo
May 14, 1999
RTRI1999E0001
West Japan Railway Co., Ltd.
Fukuoka Branch Office
Hakata Sogo Sharyosho
590 Nakahara, Nakagawa-cho,
Tsukushi-gun, Fukuoka
August 31, 1999
RTRI1999E0002
Izumi Co., Ltd.
Headquarters and TokyoFactories
2-75-1 Inadaira,
Musashimurayama-shi, Tokyo
December 27, 1999
RTRI1999E0003
Hotel Tateishi
915-4 Ohtani, Tuna-cho,
Tuna-gun, Hyogo
March 14, 2000
RTRI2000E0004
Kyushu Railway Co., Ltd.
Kokura Workshop
3-1-1 Kaneda, Kokurakita-ku,
Kitakyushu-shi, Fukuoka
April 21, 2000
RTRI2000E0005
Kinki Nippon Railway Co., Ltd.
Research Institute
10-1 Amagatsujikita-machi,
Nara-shi, Nara
May 19, 2000
RTRI2000E0006
Hotel Granvia Osaka Co., Ltd.
3-1-1 Umeda, Kita-ku,
Osaka-shi, Osaka
June 19, 2000
RTRI2000E0007
Nagoya Railroad Co., Ltd.
Maigi Teiki Kensajyo
11-1 Teramae, Maigi-cho,
Okazaki-shi, Aichi
June 19, 2000
RTRI2000E0008
Tokai Seibi Co., Ltd.
Headquarters, Shizuoka 1st
Enterprises and Shizuoka
2nd Enterprises
1-1-4 Yawata,
Shizuoka-shi, Shizuoka
October 31, 2000
RTRI2000E0009
For information (contents, inquiry and costs), please contact:
ISO14001 Registration Center, Railway Technical Research Institute
2-2-2, Yoyogi, Shibuya-ku, Tokyo, 151-8578 Japan
TEL NTT 03-5334-0420 JR 058-2276,2277 FAX NTT 03-5334-0435
E-mail : kankyo@rtri.or.jp