Asian Railway Technical Forum at RTRI
February 05, 2016 Railway Technical Research Institute
Railway Technical Research Institute (RTRI) held Asian Railway Technical Forum on January 21st this year, in 2016, at RTRI, inviting railway operators from Vietnam, Thailand and Taiwan.
This forum was organized in order to provide an opportunity to share information and to intensify technical development and research activities of railway-related organizations in Asia. RTRI aims at contributing to the development of railway networks in this region through building cooperative relationships using this opportunity.

Seven guests from overseas participated in this forum including Mr. Dinh Manh Duc, Deputy Director General of the Ministry of Transport of Vietnam, Dr. Chayakorn Piyabunditkul, Senior Analyst of the National Science and Technology Development Agency of Thailand (NSTDA), Mr. Hung-Kang Sung, Chief of Section at the Bureau of High Speed Rail of Taiwan, Mr. James Shi, Assistant Vice President of Taiwan High Speed Rail Corporation, and Mr. Chen San-Chui, Director of Electrical Engineering Department of Taiwan. About 50 Japanese people from railway operators and manufacturers also joined.

The presentations delivered at the forum are as follows:
   ・ "The Overall existing conditions and development strategy of railway system of Vietnam"
     by Mr. Dinh Manh Duc from Vietnam
   ・ "The Establishment of National Railway Research Institute in Thailand"
     by Dr. Chayakorn Piyabunditkul from Thailand
   ・ "MMIS(Maintenance Management Information Systems) Use for Rolling Stock Maintenance and Energy Saving"
     by Mr. Hung-Kang Sung from Taiwan
   ・ "Railway Maintenance Vehicle Positioning and Routing System"
     by Mr. James Shi from Taiwan
   ・ "Passenger Demand Forecasting for Railway Project Evaluation in Japan"
     by Dr. Munenori Shibata from RTRI
   ・ "Recent Status of International Standards in Railway Field"
     by Mr. Hiroshi Tanaka from RTRI

During the Q&A sessions, participants had active discussions and the examples of regarding research and development projects at RTRI were also introduced.

This forum provided all the participants a good opportunity where they were able to understand RTRI's specialty areas and technical potentials.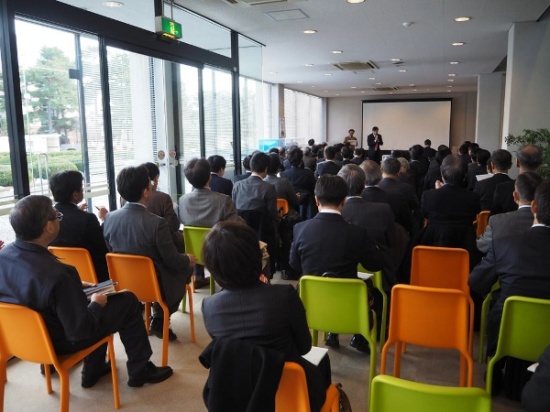 BackPage