Major Results of Research and Development in Fiscal 2015
This publication is a collection of the major results obtained from research undertaken by the Japanese public body, the Railway Technology Research Institute, in 2015.
We would like to take this opportunity to thank all JR companies in particular and all the research centers, universities, industrial partners and other entities which have offered their cooperation, commitment and support to achieve these results and without whom none of this work would have been possible.
Ⅱ. Harmonization with the Environment
Ⅲ. Cost Reduction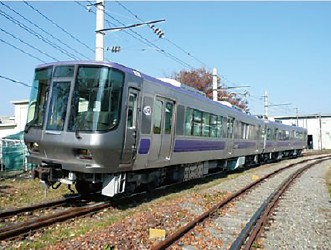 Before introducing fuel cells onto trains, their endurance for long-term use be tested through 3600 train runs and ten years of power generation tests.
This paper proposes new fuel cell design guidelines based on risk assessments in the light of defect reports.

A quantitative investigation was made into the effect of impact noise due to local wear on wheel treads, on Shinkansen railway noise.
A method has been developed for detecting local wear above 0.1mm on wheel treads from vibrations induced on viaducts.
This method can contribute greatly to detecting local wheel wear, which affects wayside noise.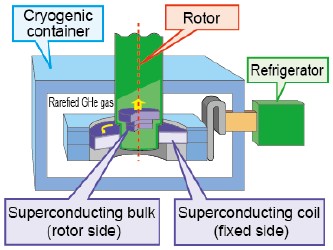 A machine has been developed for verifying high-temperature superconducting flywheel storage systems with contactless flywheel support, using high-temperature superconducting magnetic bearings.
Confirmation was obtained using the verification equipment that a small high-temperature superconducting magnetic contactless bearing was capable of supporting a 4-ton flywheel in a system with an output power of 300kW, and storage capacity of 25kWh.
Ⅳ. Improvement of Convenience
Ⅴ. Basic Research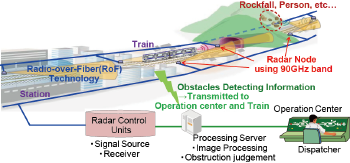 A new monitoring system has been proposed which combines a 90 GHz band millimeter wave not yet used in the railway environment and Radio over Fiber technology.
It has been confirmed that the system can detect the presence of a small group of people from a distance over 100m with a resolution of 50cm.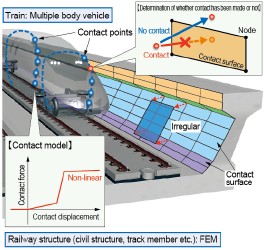 Previously, due to unfeasible calculation times required, it was not possible to analyze contact between running railway vehicles and railway structures during earthquakes. However, a new method has now been developed with feasible calculation times to analyze such situations, in order to evaluate the effectiveness of derailment damage mitigation measures such as L-guides and vehicle guide guards during very large earthquakes.
The new method can be used as a tool to evaluate the effectiveness of derailment damage mitigation measures and analyze vehicle contact with railway structures in case of a derailment.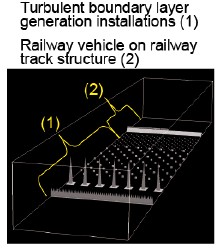 A numerical flow simulation method has been developed capable of reproducing crosswind wind tunnel tests.
It was confirmed that the simulation method could predict the side force coefficient in wind tunnel tests within a maximum 20% error margin.
This simulation method can be used to narrow down certain test conditions and thereby be used as a tool to improve testing efficiency.
・Ⅰ.2, Ⅰ.4, Ⅱ.17, Ⅲ.20 received funding from the Ministry of Land, Infrastructure, Transport and Tourism. ・Ⅴ.28 received funding from the Ministry of Internal Affairs and Communications. ・Ⅲ.22 received a grant from the New Energy and Industrial Technology Development Organization(NEDO). ・Ⅱ.19 is the result of research "Research and Development on Fundamental and Utilization Technologies for Social Big Data" sponsored by the National Institute of Information and Communications Technology.