Major Results of Research and Development in Fiscal 2014
This publication is a collection of the major results obtained from research undertaken by the Japanese public body, the Railway Technology Research Institute, in 2014.

We would like to take this opportunity to thank all JR companies in particuar and all the research centres, universities, industrial partners and other entities which have offered their cooperation, commitment and support to achieve these results and without whom none of this work would have been possible.
Ⅱ. Harmonization with the Environment
Ⅳ. Improvement of Convenience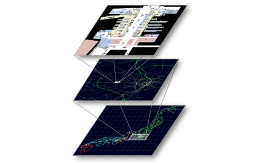 A method has been developed to quantitatively assess the seamlessness of passenger mobility in the railway system.
The method helps to identify bottleneck stations on intercity and city railway networks, and can be used to evaluate the effectiveness of improvement measures.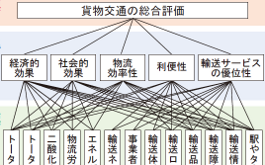 A synthetic method to evaluate railway freight transport has been developed, composed of a model-based quantitative evaluation of freight transport for economic efficiency, and system to visualize train's loading conditions for each corridor.
This method can be used to identify railway freight related problems and to assess the effectiveness of any improvement measures.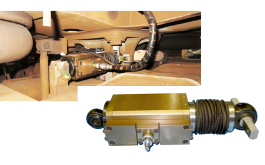 A small, low-cost pneumatic cylinder has been developed to mitigate lateral bump stop hitting when running through curves, and which does not require, electrical controllers and sensors.
The new device improves the lateral ride quality level (LT) of tilting vehicles, which use air-springs as tilting actuators, by 2-4dB.
Ⅴ. Basic Research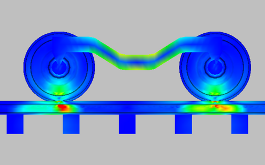 A dynamic rolling contact analysis model has been built in which wheel/rail plastic deformation can be considered.
Dynamic response and subsidence behavior of the tracks can be evaluated by the constructed model based on Quadruple Discrete Element Method (QDEM).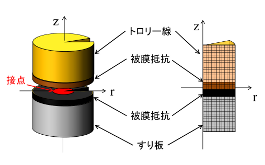 An electrical contact model was developed considering film resistance in electrical wear on current collecting materials. Insight was then gathered into "melting bridge" generation, and an electrical wear map was produced.
The wear mode map can be used for predicting the wear mode and can contribute to future material development.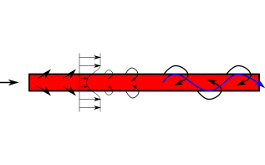 To clarify the mechanisms underlying vibrations in high-speed trains running through tunnels, a simplified model was used for analysis. This demonstrated that meandering air underbody air flows generate train vibrations in tunnels.
Ⅰ.1, Ⅰ.2, Ⅱ.17, Ⅲ.18, Ⅲ.19, Ⅲ.20 Received funding from the Ministry of Land, Infrastructure, Transport and Tourism.