Major Results of Research and Development in Fiscal 2017
This publication is a collection of the major results obtained from research undertaken by the Japanese public body, the Railway Technology Research Institute, in 2017.
We would like to take this opportunity to thank all JR companies in particular and all the research centers, universities, industrial partners and other entities which have offered their cooperation, commitment and support to achieve these results and without whom none of this work would have been possible.
Ⅲ.Harmonization with the Environment

A DC feeding voltage control technology has been developed to allow more efficient use of regenerative electric power.
With the new technique, voltage can be controlled to within approximately 25% of the rated value, whilst the cost is about 20% of the latest existing technology.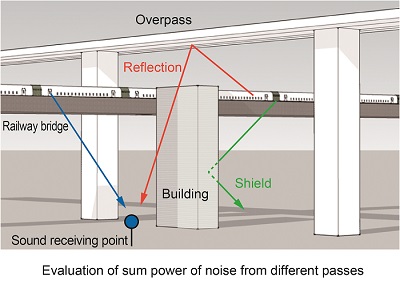 A model for predicting wayside noise has been designed which takes into account the influence of sound reflected or shielded by cut slopes, overpasses and other buildings.
This model can be applied for investigating noise control for complex situations, for example if a new building or overpass has been constructed adjacent to railway tracks.
Ⅳ.Improvement of Convenience
Ⅴ.Basic Research
・Ⅰ.1, Ⅰ.7, Ⅰ.10, Ⅱ.13 received funding from the Ministry of Land, Infrastructure, Transport and Tourism.
・Ⅰ.2 is collaborative research with National Research Institute for Earth Science and Disaster Resilience.
・Ⅰ.3 is collaborative research with Yokohama National University.
・Ⅰ.6 is collaborative research with Kochi University.
・Ⅱ.12 is collaborative research with Raito Kogyo Co., Ltd., OKASAN LIVIC Co., Ltd., and Koiwa Kanaami Co., Ltd..
・Ⅴ.26 is collaborative research with University of Bristol.
・Ⅴ.30 is collaborative research with Keio Gijuku.